Idea: Emiliano Ron.
Regia: Lucila Prestach, Jorge Albuerne, Emiliano Ron .
Coreografia: Jordie Campbell
domenica 29 novembre ore 18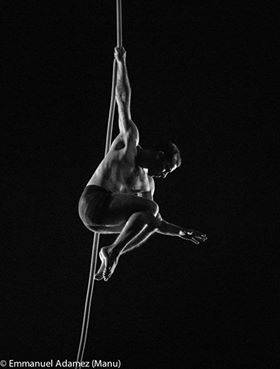 "In a world that is really upside down, the true is a moment of the false."
Guy Debord, The society of Spectacle .
The spectacle, is gravity without sense.
Thrown. A reflection on humanities existence today, as you read this. Relationships of what we see and what we know never settle. Our relationship is with commodities, and the relationships between them and the reality that remains as a result.
"Commodity is, in the first place, an external object, a thing that thanks to its properties satisfies human needs of whatever kind"
Karl Marx, The Capital 1.
It does not exist, there is no satisfaction, it does not reside. Produced, consumed, possessed, personalized and reified social relations.
It (the labour of the unproductive laborer) is "unproductive of […] value", "adds to the value of nothing", "the maintenance" (of the unproductive laborer) "never is restored", "[it] does not fix or realize itself in any particular subject or vendible commodity". On the contrary, "his services generally perish in the very instant of their performance, and seldom leave any trace or value behind them for which an equal quantity of service could afterwards be procured". Finally, his labour "does* not fix or realize itself in any permanent subject or vendible commodity".
Repeat.
Beauty burn out.
Copy and paste.
We don't exist anymore because we forgot about our essence. Society develops so fast we have become disconnected to the real story, we are not in reality. Acceleration drains our sense of meaning; the one who lives fast, dies fast too.
Jumping from one thing to the other, one image after other, insatiable. We do not exist as isolated individuals, just as we are committed to "Being-in-the-world", so too we are committed to "Being-with-others".
Teatro Furio Camillo
Via Camilla, 44 Roma
Biglietto singolo spettacolo: 13 euro