November 13th – 9pm
Cie FourHands Circus

In a Europe burdened with a continuous economic crisis, we bring to life the difficulties, the fears, and the feelings of two people living in the present.
Fabrizio is an entrepreneur who has lost the will to live and is head over heels in debt. Claudia has left her home country to start a new life. It is from their accidental meeting on a rainy, winter day when everything starts to change.
One possesses the means but has lost his drive to live; the other has a great deal of courage and a lot of hope, but has nothing more than a symbolic suitcase.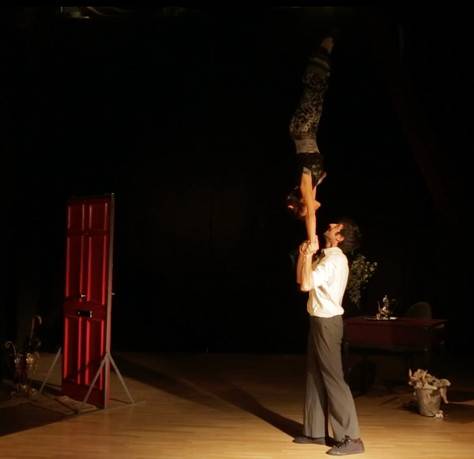 Claudia, who is curious and optimistic, is waiting for the bus that will take her to an important appointment in her new, foreign country. Fabrizio, who is ravaged by his professional failure and troubled by his anxiety, is at home searching for the only solution that could save him from a financial crisis and ultimately suicide.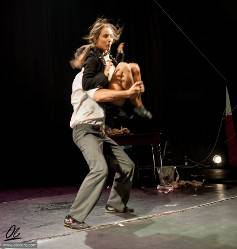 It is at an unseen moment when sometimes a twist of fate intervenes. The bus has already passed Claudia by and in a matter of minutes a heavy thunderstorm will drive her to seek refuge under the roof of an entrance doorway. The door will open, which will cause her fall down at Fabrizio's feet at the exact moment when he is about to jump off his desk into the void.
The situation is clearly awkward, but this encounter, that will last only a moment, will fill Fabrizio a glimmer of hope. He will decide to abandon his action and instead, welcome this peculiar woman into his home.
By means of acrobatics, object manipulation, aerial silk and trapeze these two characters will reveal their stories. They will re-discover themselves and will each change their approach to life.