November 14th – 9pm and 10pm
Coppelia Theatre
Surrealistic drama with puppets and actors
This is a mysteriously romantic and ironic show, where dreams and visions are evoked by the imagination of the surrealist artist Remedios Varo. It is a story without words when two of the most beautiful paintings of Remedios Varo, La creaciòn de las aves and Papilla estelar, come to life. An original soundtrack that allows the audience to delicately walk the fine line of an ambiguous world accompanies the story. The main characters of this universe are hybrid beings. They are half artists, half owls. But they are also tireless travelers, magic creatures, and apparitions.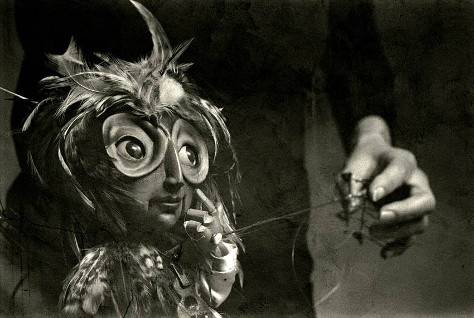 Everything is in motion—passages, walks, flights, explorations, and adventures. Magical millstones, living drawings, alembic distilling colors, animated trunks, and trees acting as walls are only some of the components of this nocturnal and enigmatic production. Images and sounds increase the suspense and unusual movement, light, and shadows uncover unknown shapes and materials.
Clockwork Metaphysics is the final result of four intense years of research: constructive, dramaturgical, and musical. It is the product of the precious collaboration of professionals from all walks of life.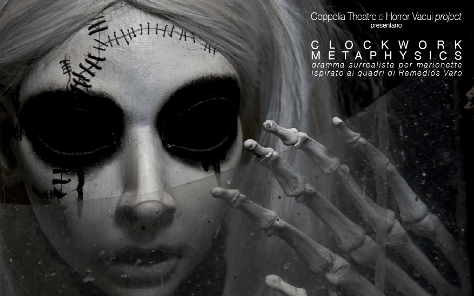 Every puppet is carved out of wood and hand-painted. Due to the extreme technical complexity, the creation of the pieces takes a long time. A three-month period is required to build a marionette and the same amount of time is needed to calibrate the wires and to learn how to manipulate it.
It is a unique technique in the world of robotics applied to theatrical animation. This love for everything complex that creates the blend of technology and poetry reflects the purpose of the company.
Coppelia Theatre was born in 2010 when Jlenia Biffi and Valentina Tommasi first met. From the beginning, they shared strong convictions, one of which being that the artistic experience should cross boundaries and that the language of theatre should be seamlessly joined with the language of other arts including cinema, sculpture, painting, music, and photography.
Directed by: Ilaria Drago / Coppelia Theatre.
Actress: Ilaria Drago.
Design, stage machinery, animation: Jlenia Biffi.
Video: Valentina Tommasi / Gioia Di Biagio.
Original soundtrack, stage musicians: Le Cardamomò.